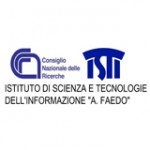 ISTI-CNR is the largest institute of the Italian National Research Council conducting research in the broad field of Computer Science. It is committed to scientific excellence and the maintenance of its active role in technology transfer. ISTI is organized into several laboratories. The laboratory participating in this project (NeMIS – Networked Multimedia Information Systems, with about 50 researchers and technicians) is doing research in three major fields: (i) next generation digital libraries; (ii) access, enrichment and management of  multimedia content, and; (iii) advanced information retrieval.
The CNR-ISTI team has been involved in many EU-funded projects relevant to the topics addressed in this project, namely in the following FP6 and FP7 projects: DELOS II NoE, DILIGENT, MultiMatch, BRICKS, BELIEF, CASPAR, DRIVER, SAPIR. It is currently involved in the 7th FP projects: EFG, EFG1914, HOPE, OpenAIRE, D4Science-II, VENUS-C, iMarine, DL.org, GRDI2020, EUBrasilOpenBio and ENVRI. The CNR-ISTI team is also involved with Europeana on issues related to data modeling.
In the context of the proposal, the CNR-ISTI team acts as a technology provider, supplying the software infrastructure (D-NET) for the implementation of both the aggregation system and the export to Europeana, all the while participating in the definition of the common EAGLE metadata structure.
In addition, ISTI-CNR will provide the technology needed for the implementation of the Flagship Mobile Application, furnishing tools and algorithms for automatic feature extraction and image indexing, and algorithms for efficient Content Based Image Retrieval.
Role in the project
Technology provider
Responsible for WP4 (EAGLE Aggregation and Image Management infrastructure)
Responsible for liaising with Europeana for all the technology-related aspects (T2.6)