We are proud to announce that Rodopis (rodopis.org) has just signed a Cooperation Agreement with the EAGLE Best Practice Network. This cooperation will hopefully lead to the involvement of Rodopis members in the project's User Engagement activities (via its network of members and friends). It may also facilitate a significant contribution to our Wikimedia Commons contents through the addition of links to EAGLE databases. Rodopis will also cooperate with EAGLE in organising intensive workshops on Digital Humanities and the digitalisation of texts in Italy. The aim of such activities will be the training of young students and researchers, especially in TEI-EpiDoc, one of the standards adopted by the EAGLE consortium for the publication of inscriptions online.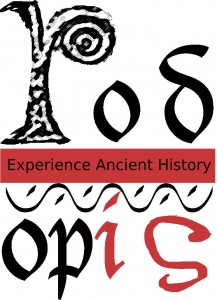 Rodopis is a cultural association of students, researchers and people interested in Ancient History. In recent years, Rodopis members have carried out several initiatives for promoting the study of Ancient History, both in and outside the academic world.
Many of the events organised by Rodopis are tightly linked to research. The most important among these are the cycles of graduate and postgraduate seminars "Ricerche a Confronto", which were held in many Italian universities (Bologna, Trento, Roma Tre, Torino, Cagliari). In addition to this, the association has organised international Postgraduate Conferences in Classics.
Rodopis also focuses on the divulgation of Classics-related themes. To this end, several initiatives have been organised, including educational seminars and annual trips to important sites to the study of ancient culture.
All members of Rodopis look forward to this cooperation and are very glad to be part of this international effort to bring top quality epigraphic contents and data to the public for use and reuse. This is the mission we share!