The "Echo Chamber Volume" is now available as Open Access.
The Gold OA versions (PDF, Epub and Kindle) can be freely downloaded from the page at:
And paperback or hardback copies can be purchased (for £12.99 and £34.99 respectively) via Amazon or Bookdepository from the same link.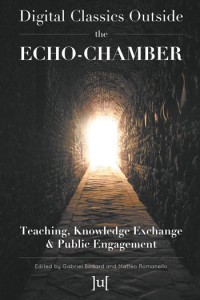 Edited by organisers of "Digital Classicist" seminars in London and Berlin, this volume explores the impact of computational approaches to the study of antiquity on audiences other than the scholars who conventionally publish it. In addition to colleagues in classics and digital humanities, the eleven chapters herein concern and are addressed to students, heritage professionals and "citizen scientists".
Each chapter is a scholarly contribution, presenting research questions in the classics, digital humanities or, in many cases, both. They are all also examples of work within one of the most important areas of academia today: scholarly research and outputs that engage with collaborators and audiences not only including our colleagues, but also students, academics in different fields including the hard sciences, professionals and the broader public. Collaboration and scholarly interaction, particularly with better-funded and more technically advanced disciplines, is essential to digital humanities and perhaps even more so to digital classics. The international perspectives on these issues are especially valuable in an increasingly connected, institutionally and administratively diverse world.
This book addresses the broad range of issues scholars and practitioners face in engaging with students, professionals and the public, in accessible and valuable chapters from authors of many backgrounds and areas of expertise, including language and linguistics, history, archaeology and architecture. This collection will be of interest to teachers, scientists, cultural heritage professionals, linguists and enthusiasts of history and antiquity.
Download here the guide to Enhancing the Impact and Readership of the book, and undertake at least one of the 5 activities suggested therein. (More than one would be great also.)
A launch party for the volume will be held on Friday, June 10, at 18h00 in Senate House, London. Those of you who are in the UK, please try to come if you can, and if you can arrange to pass through town on that day, it would be great to see any of the rest of you as well! Just as it happens, this party will be shortly after a seminar on entity extraction from classical texts given by Dr Romanello, which you would all enjoy.