FAQs:
What is a "story"?
In the EAGLE project, we believe that every inscription has a story to tell! It is thanks to inscriptions that we are informed of several details of the every-day life in Antiquity; inscriptions can be used to open a window on our past and start a fascinating journey among men that lived in Europe thousands of years ago. For instance, would you like to know how people used to celebrate victories in the most important national athletic and cultural competitions of Athens? Or how dangerous it was to cross the Alps travelling from Italy to the city of Emona (actual Slovenia) in the Roman times?
This is the kind of stories that we'd like to collect from our audience, and this is where our Storytelling App comes to help! A story is a narrative that can be enhanced by all the multimedia content that can help the readers (especially the non-specialists) understand and contextualize the words of the text. Furthermore, we should never forget that an inscription is a beautiful multimedia object! Therefore, we want to enable our authors to insert pictures and other  representations to help your audience imagine what the visual impact of the inscribed monument was and still is.
Read on, and find out what kind of multimedia content our App is suitable to add to your stories!
How do I become an author?
All you need is a valid EAGLE account. On the "Stories" page, go to the bottom of the right-hand column or click here to log in! If you already have an EAGLE account, enter your credentials; if not, click on "Register" to create one.
Once you're logged in, on the right-hand column of the "Stories" page you'll find the links to create a new story or edit the stories that you have already created.
It looks like WordPress… What's so special about the Storytelling App?
The EAGLE Storytelling App was designed as a plugin for our WordPress-powered portal. Authors use the regular WordPress WYSIWYG editor to write their texts; they can also use the regular functionalities of the WP editor to insert images and videos.
However, the Storytelling App gives you the opportunity to search and embed content from repositories specifically dedicated to Ancient History, Cultural Heritage and, of course, from the EAGLE collection itself.
Would you like to provide a map localizing ancient Emona, or embed a box with the text, images and information about the inscriptions you'd like to refer to? The app provides you with a friendly interface to search for these items and embed them in your stories in elegant interactive boxes (some examples and info here; see next question for instructions on how to do it).
How do I add multimedia content from the supported repos?
There are actually many ways to embed new content from the supported sites into the EAGLE stories! You can:
use the "Add Media or epigraphic Datasource" interface
use the WordPress shortcode syntax
or simply copy-paste the URL of the item you want to embed directly into the editor!
Toggle the functions to insert multimedia content by clicking on the "Add Media or Epigraphic Datasource" button of the visual editor.
Then select the Insert Epigraphic Datasource gallery from the menu on the left, like in the following screenshot. This will give you access to the different sources that we currently support (see this question). Enter your query in the search box, select the right item and then embed it in your story!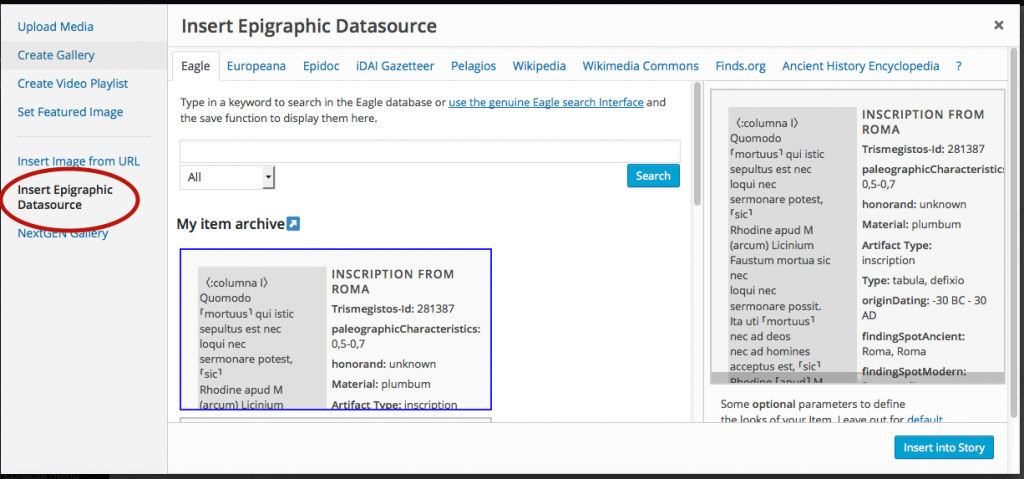 New! Right now, it's even easier to insert content. If you know the URL of the object you want to insert (e.g. https://en.wikipedia.org/wiki/Parthenon or http://gazetteer.dainst.org/place/2323295) you can paste it directly into the WYSIWYG editor; the app will take care to render it into an interactive box.
If you're familiar with WordPress shortcode and you know the ID or the URLs of the items that you want to insert, you can also embed the items directly switching to the HTML/Text editor of WP.
For instance, enter the following shortcode to embed a snippet from Wikipedia's "Epigraphy" page into your story:
[esa source="wiki" id="Epigraphy"@en]
The result will look like this:
Epigraphy
Epigraphy (from Ancient Greek ἐπιγραφή (epigraphḗ) 'inscription') is the study of inscriptions, or epigraphs, as writing; it is the science of identifying graphemes, clarifying their meanings, classifying their uses according to dates and cultural contexts, and drawing conclusions about the writing and the writers. Specifically excluded from epigraphy are the historical significance of an epigraph as a document and the artistic value of a literary composition. A person using the methods of epigraphy is called an epigrapher or epigraphist. For example, the Behistun inscription is an official document of the Achaemenid Empire engraved on native rock at a location in Iran. Epigraphists are responsible for reconstructing, translating, and dating the trilingual inscription and finding any relevant circumstances. It is the work of historians, however, to determine and interpret the events recorded by the inscription as document. Often, epigraphy and history are competences practised by the same person. Epigraphy is a primary tool of archaeology when dealing with literate cultures. The US Library of Congress classifies epigraphy as one of the auxiliary sciences of history. Epigraphy also helps identify a forgery: epigraphic evidence formed part of the discussion concerning the James Ossuary.

An epigraph (not to be confused with epigram) is any sort of text, from a single grapheme (such as marks on a pot that abbreviate the name of the merchant who shipped commodities in the pot) to a lengthy document (such as a treatise, a work of literature, or a hagiographic inscription). Epigraphy overlaps other competences such as numismatics or palaeography. When compared to books, most inscriptions are short. The media and the forms of the graphemes are diverse: engravings in stone or metal, scratches on rock, impressions in wax, embossing on cast metal, cameo or intaglio on precious stones, painting on ceramic or in fresco. Typically the material is durable, but the durability might be an accident of circumstance, such as the baking of a clay tablet in a conflagration.

The character of the writing, the subject of epigraphy, is a matter quite separate from the nature of the text, which is studied in itself. Texts inscribed in stone are usually for public view and so they are essentially different from the written texts of each culture. Not all inscribed texts are public, however: in Mycenaean Greece the deciphered texts of "Linear B" were revealed to be largely used for economic and administrative record keeping. Informal inscribed texts are "graffiti" in its original sense.

The study of ideographic inscriptions, that is inscriptions representing an idea or concept, may also be called ideography. The German equivalent Sinnbildforschung was a scientific discipline in the Third Reich, but was later dismissed as being highly ideological. Epigraphic research overlaps with the study of petroglyphs, which deals with specimens of pictographic, ideographic and logographic writing. The study of ancient handwriting, usually in ink, is a separate field, palaeography. Epigraphy also differs from iconography, as it confines itself to meaningful symbols containing messages, rather than dealing with images.


Read Full Article
What repositories does the App support?
Currently, users can select and embed content from the following web sites:
EAGLE: images and inscriptions from the EAGLE collection
Europeana
Wikipedia (a preview of the selected page)
iDAI.gazzetteer (maps on ancient and modern places)
Wikimedia Commons
Finds.org
Ancient History Encyclopedia
generic EpiDoc parser (see here)
What about videos?
Support for embedding videos from popular hosts is already provided by WordPress. If you want to embed a video from e.g. YouTube, just copy-past its URL in the Visual Editor of your story.
What is the "Epidoc reader"?
EAGLE is very proud of putting together the largest collection of Graeco-Roman digitized inscriptions on the web. Moreover, we're promoting the use of EpiDoc as a standard for the digital encoding of epigraphic content.
If you want to make reference to an inscription that is published in the web in EpiDoc format but it's not included in our collection, our Storytelling App is the right tool! Just launch click on "Add Media" from within the editor, select the EAGLE Storytelling Application  gallery (just like for any other content) and then click on the Epidoc tab.
Paste the URL of the XML edition of the inscription you want to insert in the search bar and hit the "Search" button. If you want, the App will suggest a series of repositories where you can find EpiDoc xml. The result will look something like this (from IOSPE, Ancient Inscriptions of the Northern Black Sea):
Some Errors:
Curl error: (22) The requested URL returned error: 503 Service Unavailable | http://epidoc.dainst.org/
#0 /var/www/html/eagle/wp-content/plugins/eagle-storytelling/datasources/epidoc.class.php(97): epidocConverter\remote->convert(true) #1 /var/www/html/eagle/wp-content/plugins/eagle-storytelling/esa_datasource.class.php(207): esa_datasource\epidoc->parse_result('get('http://iospe.kc...') #3 /var/www/html/eagle/wp-content/plugins/eagle-storytelling/esa_item.class.php(63): esa_item->_generator() #4 /var/www/html/eagle/wp-content/plugins/eagle-storytelling/eagle-storytelling.php(703): esa_item->html(true) #5 /var/www/html/eagle/wp-includes/shortcodes.php(393): esa_shortcode(Array, '', 'esa') #6 [internal function]: do_shortcode_tag(Array) #7 /var/www/html/eagle/wp-includes/shortcodes.php(265): preg_replace_callback('/\\[(\\[?)(captio...', 'do_shortcode_ta...', '

FAQs...') #8 /var/www/html/eagle/wp-includes/class-wp-hook.php(308): do_shortcode('

FAQs...') #9 /var/www/html/eagle/wp-includes/plugin.php(205): WP_Hook->apply_filters('

FAQs...', Array) #10 /var/www/html/eagle/wp-includes/post-template.php(255): apply_filters('the_content', 'FAQs

The Epidoc reader is still a work in progress and we've still a lot of work to do before we fully support this feature. Stay tuned and if you have suggestions, do let us know!
Can other people edit my stories?
No, only the authors and the site adminstrators can edit, (un)publish, and delete your stories. Administrators won't touch them, unless there's a serious reason to do so (see here)!
So, can I really write everything?
We encourage everyone who has some story to tell about inscriptions to use our tool and unleash their creativity. But of course, within due limits! Offensive language, abuse and/or inappropriate content will not be tolerated. The Administrators and the Project Coordinator reserve their right to withdraw immediately from publication any story that, according to their judgment, violates this basic code of conduct.
Also, authors must pay close attention that they have the right to upload or embed the images that they are using. Any notice of copyright violation that we will receive will result in the immediate withdrawal of the corresponding story from publication!
How can I get in touch to report violations or make suggestions?
You can send us an email at: info@eagle-network.eu
Can I download the App and install it on other WP sites?
Yes you can! The EAGLE Storytelling App is now available from the official WP plugin repository. You can download and install it from:
https://wordpress.org/plugins/eagle-storytelling-application/
Give it a try!